Your Tech Exposure is Higher Than You Think
If you are in an S&P 500-ish portfolio, you probably think your exposure to technology is around 25%. That is what you get, for example, via GICS. But it is not. It is probably somewhere north of 40%.

Here's the thing: When we look at sector exposure, we usually are putting a company into one and only one sector, based on its main line of business. And the definitions and industries are often rejiggered, so suddenly a bunch of companies are moved to a new Communications Services sector, and although nothing new has happened in the world, your tech exposure changes.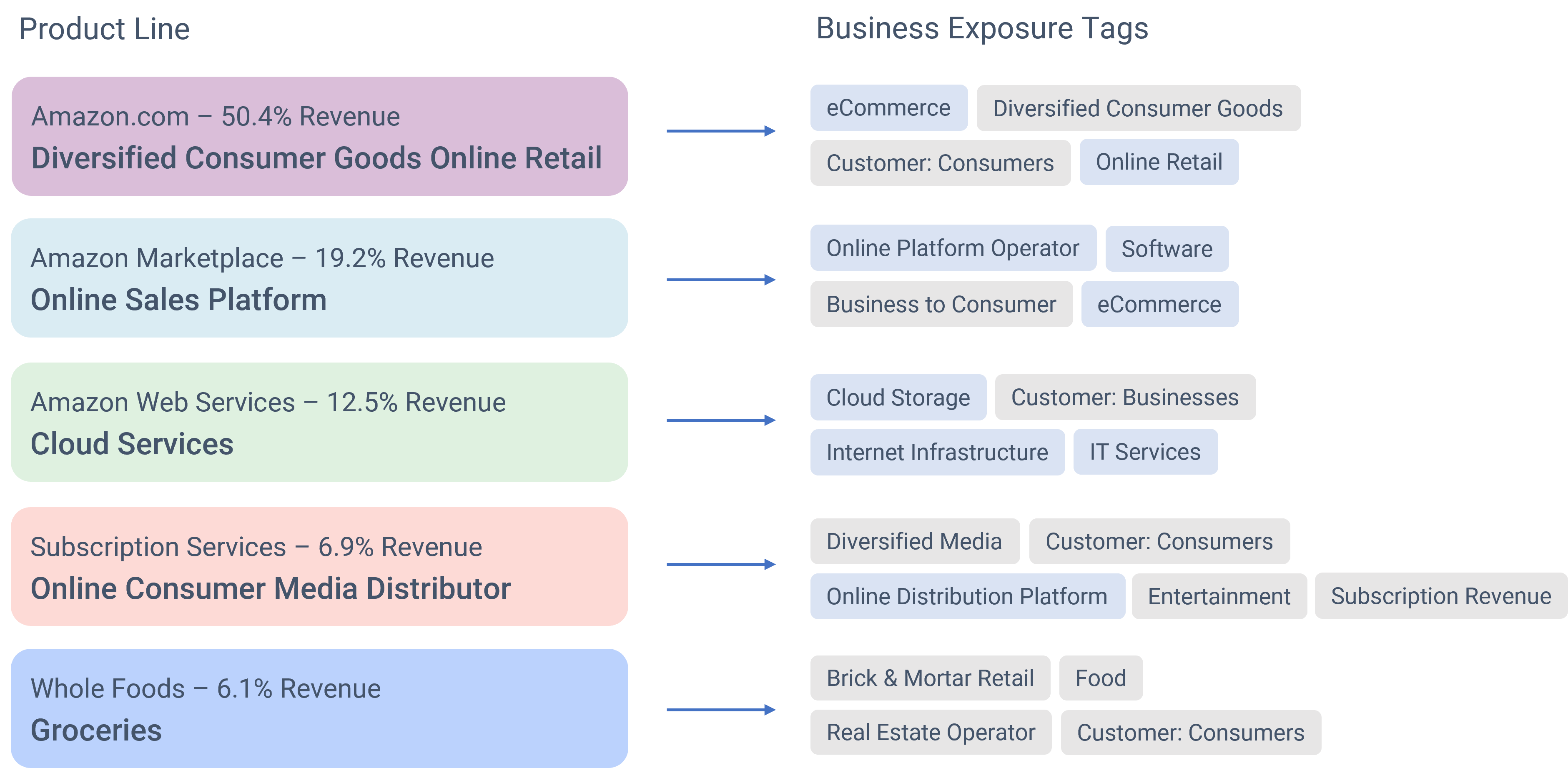 When you have a large company, it rarely is in one business line. Look at Amazon. It is classified as Consumer Discretionary. But you really want to go into the business lines of the company to see the breakout in more detail. As the accompanying figure (from a tool called Affinity) shows, Amazon is (surprise) more than a platform for online retail. It has cloud services, media distribution, and groceries!
Speaking of cloud services, take another example, Equinix. It is a real estate company in the Specialized REITS sub-industry. But its main business is running data centers. Won't its revenue drop if technology gets hit? Should it count as part of your technology exposure? If you know the breakout, you at least have the option to decide.
GICS is not wrong. Equinix really is a real estate company. So as a first pass, go with it. But it is incomplete. Many of the exposures we want to follow cut across the sectors as they are currently defined.
This is one thread to weave into the broader topic of factors. Using a multi-factor approach (we use MSCI) allows the exposures to be multidimensional, to be cast across sectors, countries, asset types (rate or credit), and styles. The loading on each of these can be determined in any of a number of ways. MSCI uses a regression approach. Syntax Affinity uses a painstaking process to dissect the companies one by one.
Source: Syntax Affinity
Access a better way to understand and work with risk, powered by MSCI's factor model.

Rick Bookstaber
CO-FOUNDER AND HEAD OF RISK
Rick Bookstaber has held chief risk officer roles at major institutions, most recently the pension and endowment of the University of California. He holds a Ph.D. from MIT.
Access a better way to understand and work with risk, powered by MSCI's factor model.